FEATURING RECYCLED PLASTIC LUMBER PRODUCTS
PREMIUM, STRUCTURAL, & INDUSTRIAL GRADES, SHEET GOODS, FURNITURE, FENCING, DECKING, RAILING & SIGNAGE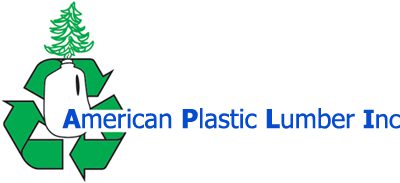 AMERI-BOARD PLANK, RAIL & STAIR SYSTEM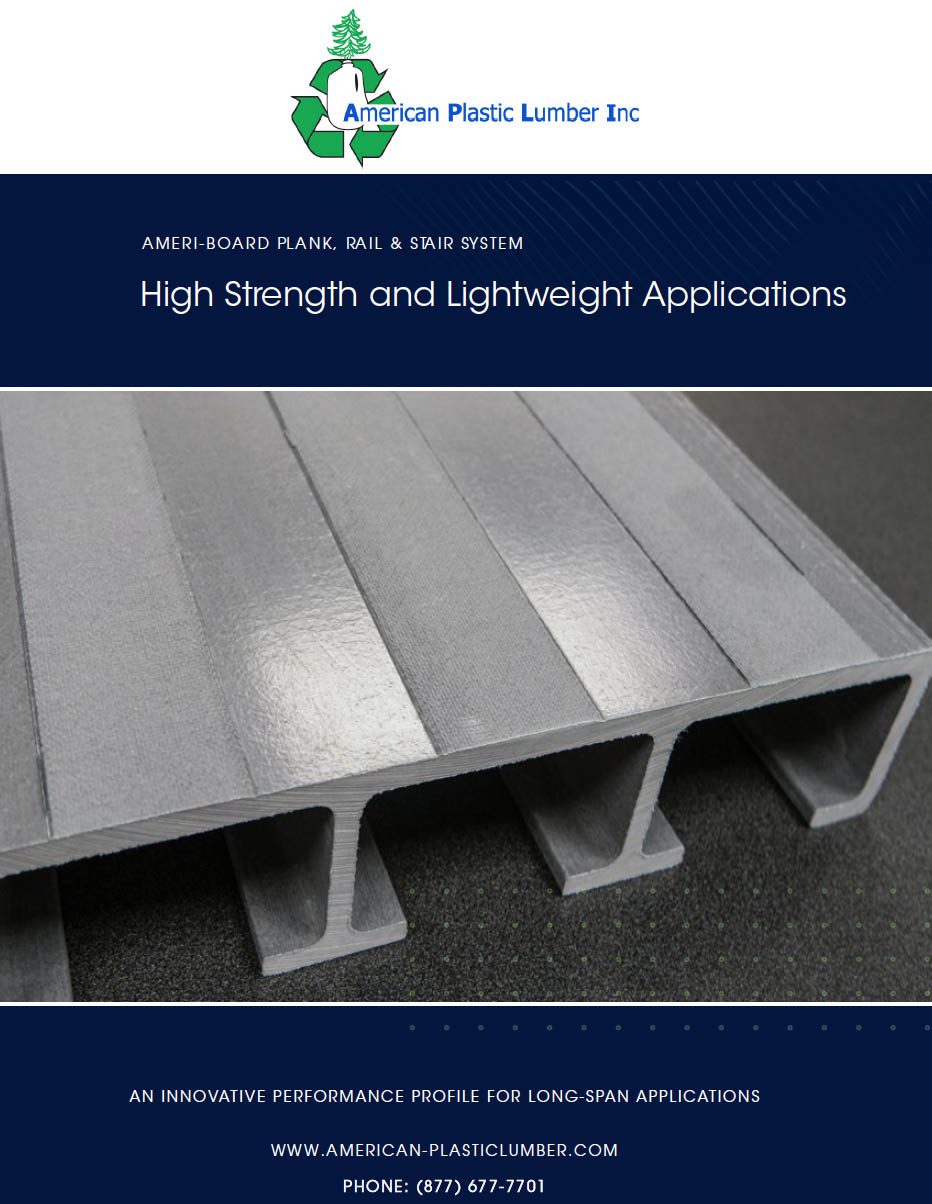 2

x

Strength Increases Span & Load Capacity
Ameri-Board Plank, Rail & Stair System has been designed for exceptional performance in harsh corrosive environments. Exhibiting a bending strength greater than that of steel with nearly twice the stiffness of a typical pultruded plank. The high strength plank, rail and stair system will span further and hold greater loads than ordinary pultruded planks or similar size wood timbers.
Profile Includes Fire Retardant Options and Built-in Traction Surface
The lightweight Ameri-Board FG Plank features an integrated wearing surface that is formed during the pultrusion manufacturing process. The integral wearing surface reduces the installed plank weight by eliminating the need for a secondary application of an antiskid surface to increase traction. Ameri-Board FG Planks are offered in two fire retardant options to suit a variety of applications.
Available in Standard Colors
OLIVE GRAY
SLATE GRAY
BEIGE
Note: minimum quantities apply, consult your sales representative for custom colors and minimum order requirements. Legacy antiskid coatings are available upon request.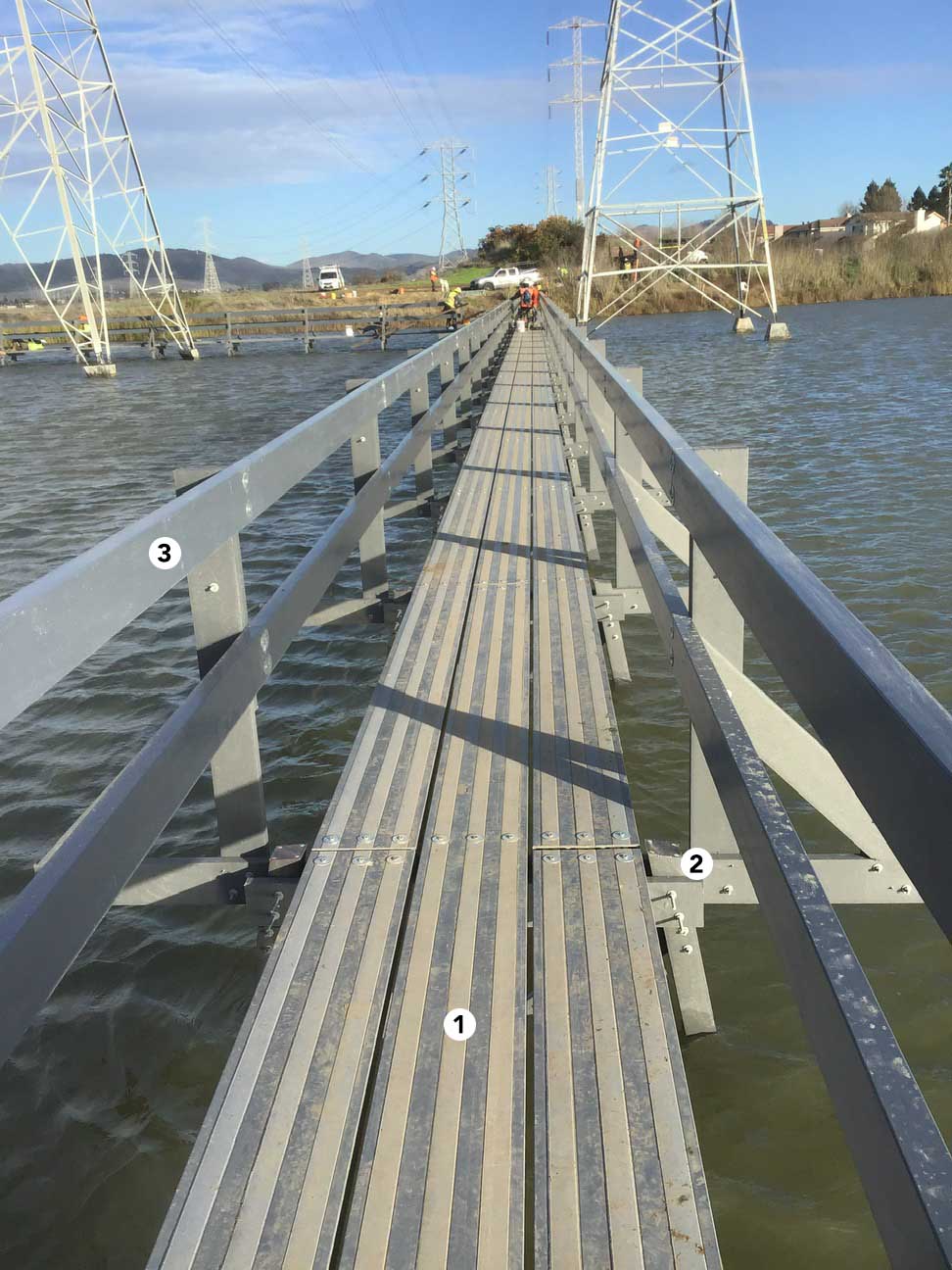 1) Ameri-Board Plank; 2) Structural Plactic Lumber; 3) Ameri-Rail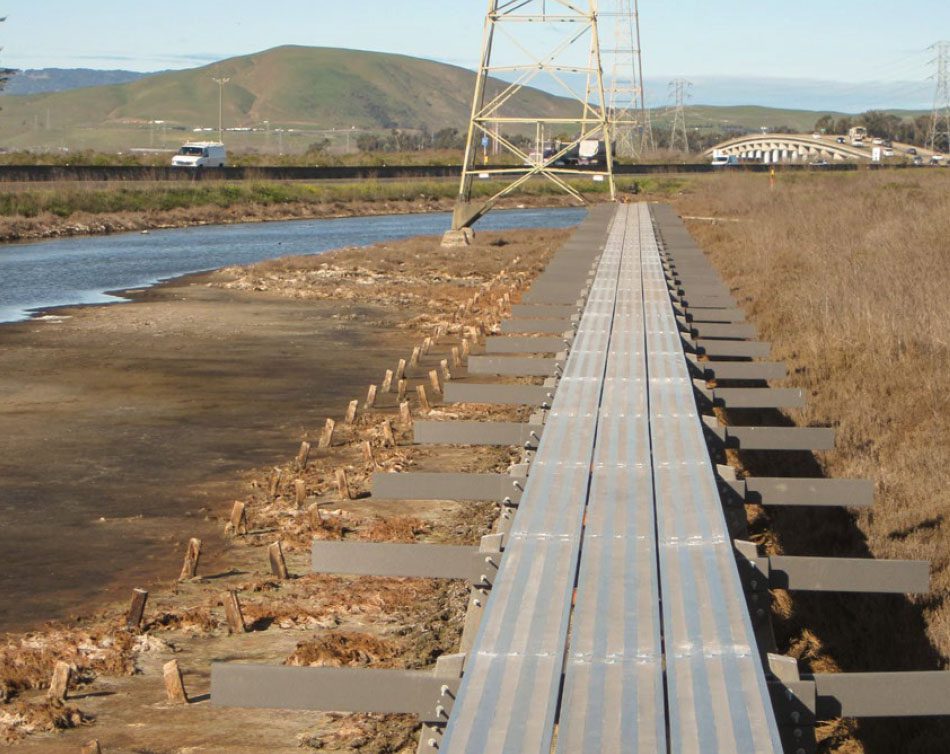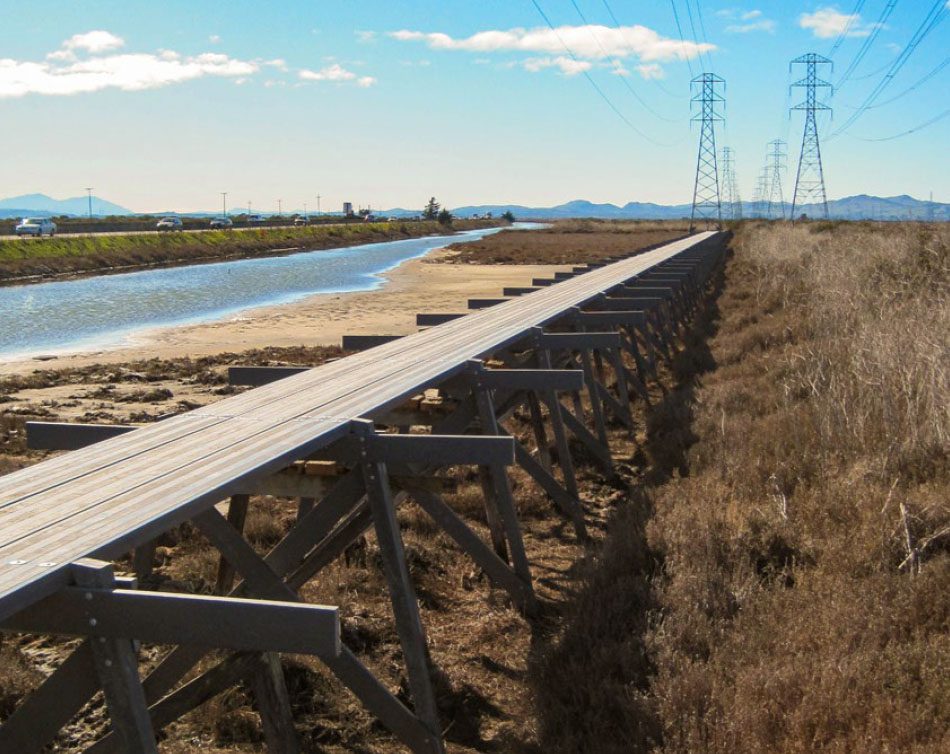 APPLICATIONS
Access Platform Decking
Beach Crossovers & Walkways
Dock Decking
Industrial Walkways
Observation / Viewpoint / Platforms and Decks
Nature Boardwalks
Rails to Trails Decking
Stair Steps
Water Parks & Gangways
Wood Deck Replacement
FEATURES AND BENEFITS
Excellent Traction & Dielectric Strength – Enhances Safety
Exceptional Service Life – Lowest lifetime cost of ownership
Corrosion & Rot Resistant – Long-life for corrosive applications
Environmentally Sustainable – Doesn't leach toxins
Outperforms Wood & Steel – 80% lighter than steel
Fast Installation – Lightweight, Easy to carry, drill and cut
Exceptional Strength – Span further and carry higher loads
Manufactured in the USA – ISO 9001:2015 compliant facility
Easy Clean – Maintenance Free
Simple Supported Beam – Single Span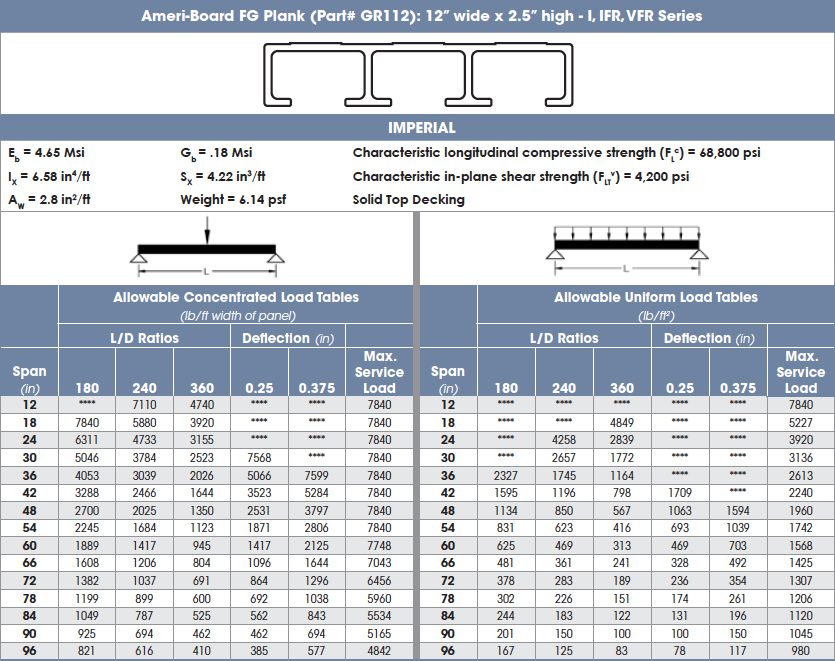 Simple Supported Beam – Continuous Span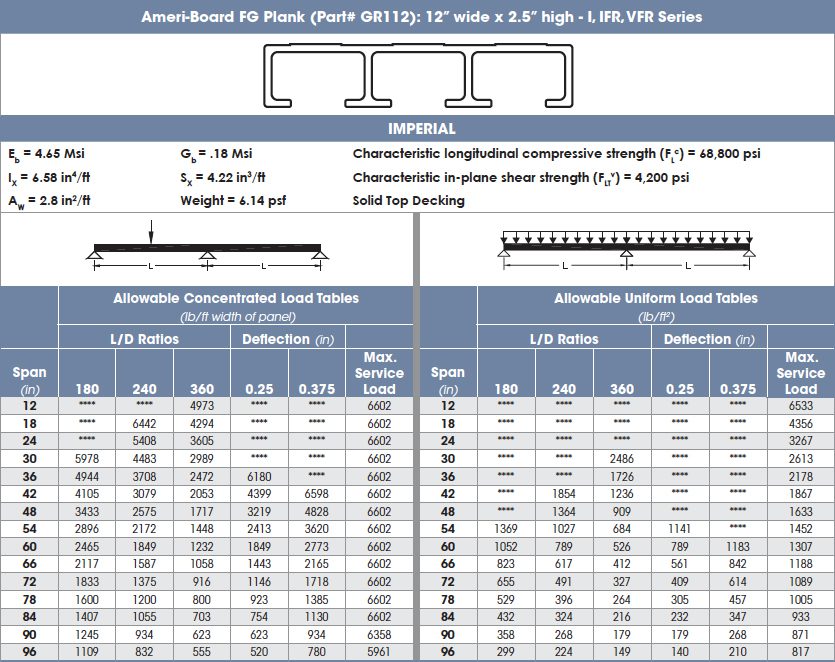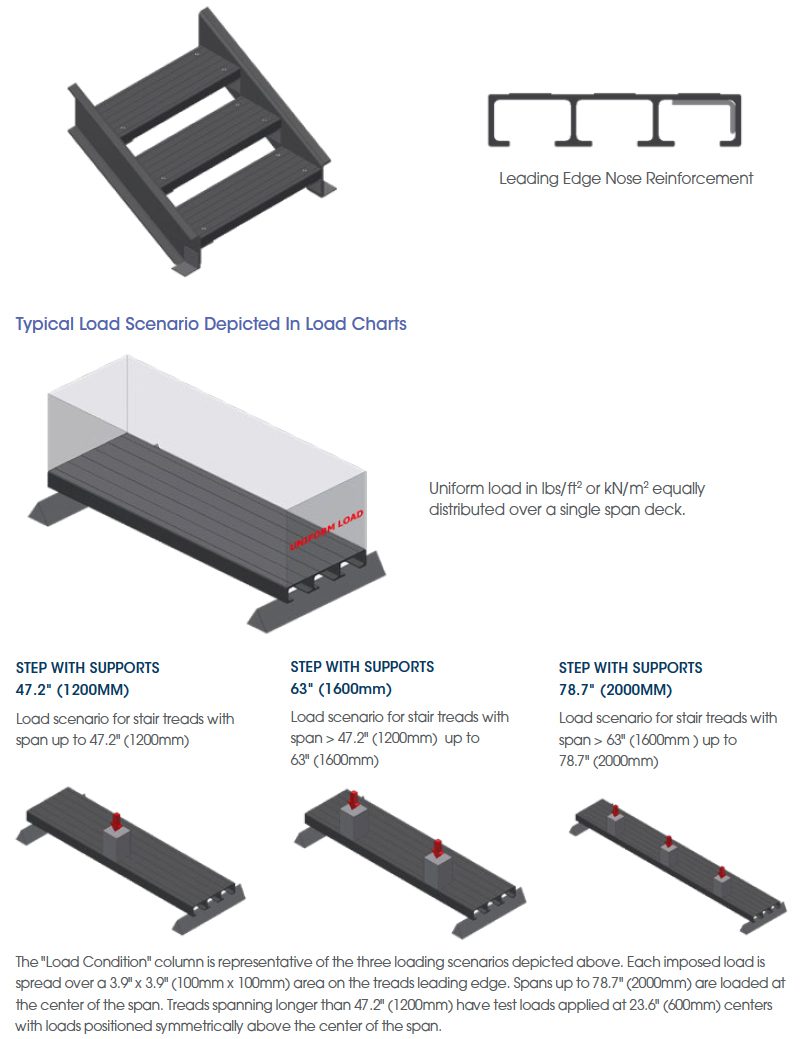 Deck To Girder Connections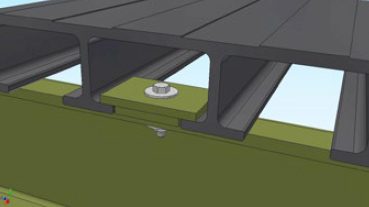 Hidden Clamp Connection
The hidden clamp connection features a fiberglass reinforced polymer (FRP) hold down clamp plate that captures the bottom flanges of the plank and securely holds the plank in position.
Item
3″ x 2″ x 1/4″ FRP Flat Plate
2″ x 2″ x 1/4″ FRP Flat Plate
1/4-20 x 1-1/2″ long Hex Bolt
1/4-20 Hex Nut
1/4″ Flat Washer (2)
1/4″ Spring Lock Washer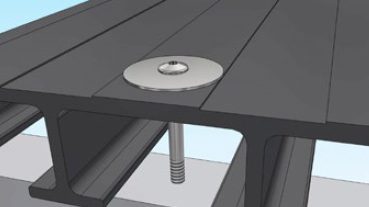 Deck Screw With Washer
The Deck screw with washer connection permits the contractor to securely fasten the deck from the top surface. This connection technique is ideal for commercial applications in which the hardware does not create a visual issue and uplift loads are substantial.
Item
5" x 0.32" Button Head Deck Screw (Ameri-Screw5.0) – Zinc Clear Trivalent Coating
2" O.D. Flat Washer – 316SS
Countersunk Self-Drilling Screw
The countersunk method is ideal for quick installations with limited visual of the hardware. This method is ideal for pedestrian bridges and walkways in which uplift loads are minimal.
Note: CCG recommends two fasteners per plank per connection as a minimum.
Item
1/4" x 4" Self-Drilling Screw – Phillips Drive Epoxy Finish 410 Stainless Steel
FRP Clip Screwed to Sill Or Support Channel
The clip connection is ideal for blind connections in which you can install the decking with underside access.
Item
1/4" FRP Plate
1/4" x 1.5" long Hex Head Lag Screw
1/4" Flat Washer
WEATHERING UV PROTECTION
The FG Planks shall be encompassed with a 10 mil thick thermoplastic polyester surface veil to protect the fiberglass reinforcements from fiber blooming.
MATERIAL CONNECTION
American Plastic Lumber Inc. can provide assistance with sub-structure engineering and design, utilizing Structural Plastic Lumber, also with a limited 50 year warranty!
Offering comprehensive value engineered product lines of customizable Recycled Structural Plastic Lumber substructure components, walking surfaces, stair and railing systems that will endure harsh environments where the maintenance cost avoidance factor is a high priority!
Contact us for assistance with getting your project underway, redesigned or to simply establish budgetary costs.
American Plastic Lumber has provided maintenance-free recycled plastic lumber products throughout the world for over a quarter century.
American Plastic Lumber, Inc
P.O. Box 514
Shingle Springs, CA 95682
Toll Free: (877) 677-7701
Local: (530) 677-7700
Fax: (530) 677-6718
Email: sales@aplinc.us
© 2023 American Plastic Lumber, Inc, All Rights Reserved.