RECYCLED PLASTIC LUMBER: STRUCTURAL, PREMIUM, INDUSTRIAL & SHEET GOODS
OVER A QUARTER CENTURY OF QUALITY PRODUCTS & SERVICE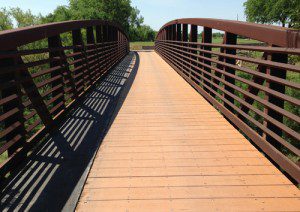 A fairly new innovation in the world of recycled plastic is recycled plastic lumber, also known as composite lumber, recycled plastic timbers, and a variety of other names. The applications for this amazing product are endless and span the working uses of both wood and metal building materials. Recycled plastic lumber comes in a variety of different shapes, sizes, and strengths and outperforms regular lumber in every meaningful category of comparison.
Recycled Plastic Lumber Advantages
Waterproof
Insect and marine borer resistant
Impervious to salt, mold, dry rot, and corrosives
Graffiti resistant
Non-splintering
Maintenance free – no painting, staining, or sealing needed
Non-leaching, toxin free
Long-term aesthetics
Recyclable
In addition to the advantages over regular lumber, you will not need any special tools to use the recycled plastic lumber – standard wood working tools are perfectly compatible with recycled plastic timbers and the composite lumber will actually retain fasteners up to 30% better than regular wood.
Why Choose Recycled Plastic Lumber?
The list could go on and on, but based on conversations with our customers and our own experience using the material, we have highlighted a few key points below:
Environmentally Friendly – Americans and people around the world in general are becoming more self-aware with regards to our use of the environment. Plastics are clogging up our oceans and ending up in the food chain. Using recycled plastic lumber removes plastic from the environment and repurposes it for safe use, while at the same time providing a substitute for traditional lumber, thus directly saving trees.
Structural Stability and Resistance – You don't have to worry about termites any longer! Recycled plastic timbers contain no wood, so those pesky termites won't go anywhere near it! The same goes for all other insects and the material is also impervious to water damage, mold and dry rot. The recycled plastic lumber can be used in industrial marine applications and is impervious to salt and other corrosives.
Aesthetics and Maintenance – You do not need to do anything to maintain this material. There is no sanding, painting, sealing or anything. Once you've done the work to put it up, you're done! This recycled plastic lumber holds its aesthetic appeal for much longer than regular wood. In fact, its possible the product hasn't been around long enough for there to be a single instance of aesthetic degradation. Some manufacturers are so confident that they provide a 50-year warranty!
Give us a call today to discuss the application of recycled plastic timbers with regards to your home or business. We are experts with the material and have helped people use recycled plastic lumber to their advantage in hundreds of different applications. We are here to help you get the job done right the first time, and are able to perform custom special orders for whatever you may need. The possibilities are endless! Give us a call to discuss recycled plastic lumber today!
Largest selections of colors, sizes & grades available.
American Plastic Lumber has provided maintenance-free recycled plastic lumber products throughout the world for over a quarter century.
American Plastic Lumber, Inc
P.O. Box 514
Shingle Springs, CA 95682
Toll Free: (877) 677-7701
Local: (530) 677-7700
Fax: (530) 677-6718
Email: sales@aplinc.us
© 2023 American Plastic Lumber, Inc, All Rights Reserved.