FEATURING RECYCLED PLASTIC LUMBER PRODUCTS
PREMIUM, STRUCTURAL, & INDUSTRIAL GRADES, SHEET GOODS, FURNITURE, FENCING, DECKING, RAILING & SIGNAGE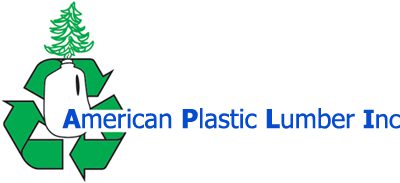 How to Order
We do require pre-payment prior to processing. We do not accept credit cards at this time.
Signed estimates are required as part of our operations processing, essential for order verification and to ensure order accuracy. Thank you for your understanding. We very much appreciate your business.
To turn your estimate into an order, the process is simple:
Send your Approved and SIGNED estimate
All orders are custom and must be prepaid. Payment is accepted via the following methods:

Check (send scanned/photocopy of your check prior to mailing to expedite) or
Wire transfer (send proof of wire transfer transaction to expedite) or
Direct deposit, Wells Fargo Bank (send proof of ACH to expedite)
Should you wish to send payment via bank deposit or wire, our accounting department will send you the information and instructions.
Cancellation & Return Policy
Nearly all purchases are special order and custom; not stock items held in inventory.
At American Plastic Lumber, we do our best to ensure you are quoted the appropriate product and satisfied with your purchase, however: All sales are final. Orders cancelled after placement, during production or post-production require management's review and may be subject to a 50% Restocking Fee for lumber or sheet goods and 60% on furniture or unassembled products. Please check your item(s) as soon as they arrive and contact us in writing immediately if order is incorrect or damaged, with notice of damage noted on freight bill before signing for delivery. Photos of damaged goods is required.
All returns or cancellations are subject to approval and require a Return Authorization (RA) number in advance. Return shipping costs are the responsibility of the purchaser unless damages occurred in transit.
Expansion & Contraction
Our plastic lumber is less rigid than wood and as such may require more support and/or possibly a larger size or structural grade material. Because of the higher rate of expansion and contraction it may be recommended that the material be pre- drilled with a slotted hole to allow the material to move and prevent fasteners from breaking. We recommend high quality stainless steel screws and fasteners. Stainless screws are most commonly recommended.
It is recommended that an engineer review the design prior to installation in order to comply with technical specifications provided, relative to the expansion and contraction characteristics of the material(s), as well as the fastening method(s) used.
Recommendations for Installation:
Pre-drill and oversize all holes in order to allow for the expansion and contraction of the material.
Use good quality stainless steel or galvanized hardware.
Do not over tighten the hardware–the material has to be able to move.
Maintenance or Cleaning
The beauty of plastic lumber is its "maintenance-free factor". Since it is impervious to stains and does not absorb water/moisture, grease/oil or any liquid for that matter, the product requires little maintenance other than perhaps an occasional washing with soap and water.
ADDITIONAL CLEANING INFO
Cleaning may be done with a power washer, taking caution to ensure nozzle does not get too close to lumber or using a brush with a mild soap/cleanser and water.
Largest selections of colors, sizes & grades available.
American Plastic Lumber has provided maintenance-free recycled plastic lumber products throughout the world for over a quarter century.
American Plastic Lumber, Inc
P.O. Box 514
Shingle Springs, CA 95682
Toll Free: (877) 677-7701
Local: (530) 677-7700
Fax: (530) 677-6718
Email: sales@aplinc.us
© 2023 American Plastic Lumber, Inc, All Rights Reserved.