FEATURING RECYCLED PLASTIC LUMBER PRODUCTS
PREMIUM, STRUCTURAL, & INDUSTRIAL GRADES, SHEET GOODS, FURNITURE, FENCING, DECKING, RAILING & SIGNAGE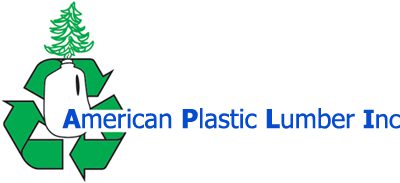 Largest Selection of Colors, Sizes & Grades Available
50 Year Maintenance-Free Plastic Lumber
HIGH QUALITY RECYCLED PLASTIC LUMBER
At American Plastic Lumber, we take pride in offering high quality recycled plastic lumber for a multitude of applications and with competitive pricing. Whether your project is large or small, we have the resources to provide you with the best plastic lumber products available and outstanding customer service.
With unsurpassed durability, American Plastic Lumber likely offers the largest selection of colors, profiles and grades available in the marketplace today.
The advantages of plastic versus wood are endless. Here are just a few:
Plastic lumber requires very little maintenance and is easier to clean than traditional wood, color throughout
Resistant to salt, water, stains, insects, UV, and more
Will not mold, rot, splinter, or leach toxic chemicals
Can be engineered to specifications, ASTM tested
Looks like wood without the need to ever paint or stain
No special installation equipment ~ standard woodworking tools are all that is needed
Limited warranty UP TO 50 YEARS!

*Warranty varies between products-Available upon request
All orders are considered custom, made to your specific needs. We do not have distributors or sell in retail stores at this time. We sell and ship direct anywhere in the U.S. with a 500 lb. minimum order for plastic lumber, and 3,000 lb. minimum for plastic sheeting. For International customers, we will ship to your closest U.S. port; you or your customer will be responsible for customs documents and fees, and transportation from the U.S. port to the final delivery destination.
After nearly 20 years in the plastic lumber industry, you too can trust American Plastic Lumber for all of your plastic lumber needs.
Long Lasting, Maintenance-Free Plastic Lumber Products
American Plastic Lumber has provided maintenance-free recycled plastic lumber products throughout the world for over a quarter century.
American Plastic Lumber, Inc
P.O. Box 514
Shingle Springs, CA 95682
Toll Free: (877) 677-7701
Local: (530) 677-7700
Fax: (530) 677-6718
Email: sales@aplinc.us
© 2023 American Plastic Lumber, Inc, All Rights Reserved.